SPRING X [I hear and I forget] (2015) for saxophone, violin and piano
Timothy Sun (alto saxophone), Kitty Cheung (violin), Jenny Ng (piano)
Premiere at the Hong Kong City Hall Theatre, on February 21, 2015, Hong Kong
AND THE MOUNTAIN SAID… (2014) for erhu, 2 cellos and piano
Allen Yeh: erhu | Emily Chang: cello | Jen Yi Kung: cello | An Tôn Thât: piano
Premiere at the National Recital Hall, September 28 2014, Taipei, Taiwan
The Legend of  Thánh Gióng (2013) for narrator, đàn bầu and orchestra
Thomas Wittmann (narrator) | Hiền Năng Nguyên (đàn bầu) |  Berliner Symphoniker conducted by Lior Shambadal
Premiere at the Berlin Philharmonie, Berlin, Germany, on February 24th 2013
After so many years writing for the stage and other people's projects, I was too happy when this offer came to me, at the beginning of the summer 2012. I actually had no clue what I was getting into when I accepted to write this orchestral piece based on this favourite Vietnamese tale. Even if I had never done it, I said yes. That was the perfect occasion to push my creative limits. It took me 6 months to gather ideas and two weeks to actually compose the piece. I did it the old fashioned analogue way: music paper, a pen and an eraser! The first big moment was when, during the first rehearsal, the orchestra played the first bars. I could feel my heart stop. I was floating in the air! The other
overwhelming moment occured when I entered the Berlin Philharmonie. That was the concert venue built for Herbert von Karajan… The greatest conductors performed there and it felt the most natural thing to be there myself…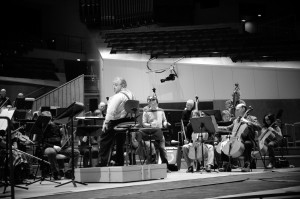 2 Vietnamese Songs (2013) for string quartet
Besa String Quartet
Premiere on August 3rd at the Freundschaft Inseln, Postdam, Germany
Kiêt Lê, the violinist who acted as my contact with the Berliner Symphoniker asked me to arrange two popular Vietnamese songs for his string quartet: Việt Nam Quê hương tôi and Quê hương. Most of the renditions for those two songs are in a mock folk style, or pure Vietnamese pop style. So I thought of what Brahms did on all these German folksongs, or what Shostakovich did with Tea for Two, and tried to retain the local tone but make them listenable when played on Western instruments, which is a little challenge since the singing Vietnamese voice is quite different from the phrasing of a violin or a cello…
Der Abschied (2011) for spoken voice, piano, strings and electronics
It all started in 2007, as I was working on PLAY 2 PLAY in Niigata with Jo Kanamori. Beside the music for the ballet, I was also working on a sound installation that was to play everywhere in the theatre before the show and during the intermission.  One of the pieces was called 'Der Abschied'. I recorded an old man reciting the Japanese translation of the last poem from Mahler's song cycle 'Das Lied von der Erde'. Four years later, the tsunami  hit Japan. A couple of weeks before, I had written new music for myself, and had used the recording with the old man for one of the pieces I also called 'Der Abschied'. In German, Abschied means farewell. Little did I know then what a premonition it would be. After the tragedy in Japan, I sent the music as a way to present my condolences. At the same moment, a friend of mine learned that she had cancer. Although she fought hard, it was already too late and she died only a few weeks later. I gave her a tape with the music on it, so she could listen to it and hopefully feel some peace. 
Missa Matrimonica (2008) for mixed voices and cello
Isabelle Thomas, Julia Peláez (sopr), Ulysses Chuang (ten), Jan Stümke (bar), An Tôn Thât (bs) & Christophe Boissière (cello).
Premiere on July 18th 2008 at the Eglise Saint-Nicolas, in Saint-Maur, France

This mass was written especially for my brother's wedding. I wrote it during breaks whilst scoring for the musical play 'Auntie' in Taipei. Regarding the singers, I gathered my dearest and long time companions in life and music. It was a magical moment when we sang it at the church. I'm not religious but faith (of any kind) is important to me. My brother who's not one to show his emotions was caught red handed weeping during the ceremony!