Uudam Nguyen's installation Serpent's Tail, with music composed by An Ton That, and which was first presented in 2015 during the 8th Asia Pacific Contemporary Art Triennial in Brisbane, Australia, then in Yokohama and Singapore, will now reach Hanoi and the Goethe Institut for the Dream a Future Dream exhibition. Opening is on March 8th, 2017.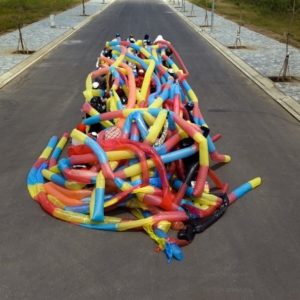 "Motorbikes as a symbolic power for the rapid development of Vietnam: Videos and installation by UuDam Tran Nguyen.
As a motorcycle aficionado, it always gives UuDam great inspiration to see the scene of thousands of motorcycle riders in on their bikes, dress in full colorful gears, waiting for the signal each morning and speed away when the light turns green. It resembles the image of medieval knights charging ahead on horses in a battle fields. With gear to protect themselves from head to toes, they look mysterious and beautiful in colors and patterns.
UuDam Tran's videos and installations are about the speedy development of Vietnam and perhaps the world. Motorcycles are the symbolic forces that propel Vietnam forward. "As one of millions of Vietnamese equestrians riding on our mechanical horses to our destinations each day, I wonder if we all chasing a DREAM." In his exhibition "Dream a Future Dream" at Goethe-Institut Hanoi from March 10 until April 2, UuDam Tran presents two videos and a new installation for which he used the engine blocks of the Honda motorcycles DREAM and FUTURE – which were the most popular motorbikes in Vietnam during his teenage years."
Goethe Institut
Watch a presentation of the artist of his work at the Yokohama Museum of Arts.
Body / Play / Politics (click title to open)
Venue: Goethe-Institut Hanoi
56-58 Nguyen Thai Hoc, Ba Dinh, Hanoi
Tel.: +84 4 3734 2251