Wednesday, August 28th, 2013| To the Sun 
What goes around comes around. In some way or another. In some shape or another. As a young teenager, I had this dream to become a film director. Little did I really know of the struggle and hardship all the directors I admired had to go through. I was clueless, a head full of illusions and eyes filled with blinking stars – or billboards.
Now that I have started directing my first music videos, I am tentatively reconnecting with the original passion. Naturally, music retains a fundamental part in the process. It will always stay with me. But to begin with music videos is a logical step. Thanks in great part to Zed, who shows so much support and enthusiasm for our work together, I have made the step and find more confidence to go on.
Filming To the Sun was like playing a game. The more I would discover and learn on my path, the more I would want to know and explore further. It was quite different from Nothing comes to Light, which was conceived as an extension of my black and white photographies. To the Sun has a narrative, was filmed in colour, involved more people in the cast and was shot in various places in Paris and Taipei. And I also had to act and emote in the scenes.
The editing went smoothly and very efficiently: in two sessions and it was done! I had run a storyboard in my mind countless times so I had a pretty clear image of how the narrative had to unfold. For the parts which were more uncertain, Zed suggested ideas from which I could bounce. We really made a good working team. The spirit was light and playful. I like that kind of atmosphere in my work.
It took me a year and a half before I could bring To the Sun to life. As soon as the second time we met, I had already told Zed about this story of a brother and a sister living apart in Paris and Taipei, hoping to reunite again one day in Paris…
Now we're ready for the next music video!
November: Who we be! New project, new challenge, for this video will be involving dance!
I'm really happy to see that ideas which have been growing in my head are materialising.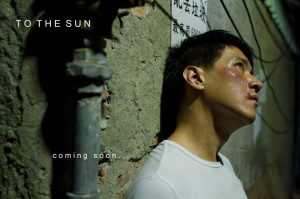 Wednesday, May 22nd, 2013 | Passage
Simon is crazy! He had been pining for an online conversation for a few weeks already. I knew some ideas made their way in his mind after he attended my concert with the Berliner Symphoniker. I had no clue what he would come up with, in spite of some hints in ensuing conversations, about how he would see me perform my own music, writing more instrumental or orchestral pieces…
I was less enthusiastic about the outcome of the concert. There has been no review, merely mentions of the event. Nothing more. Of course, I was highly aware what great honour it was to have had my work performed in such a prestigious concert hall. But I was also aware of the many flaws I have found in the work itself. My friends tell me to be kinder to myself. It was my first attempt at writing a symphonic piece, after all. Indeed, I was content and satisfied, but I was not as enthusiastic as Simon. He seemed to get something else out of it. However, I agreed that it was high time to put myself in the front and do more personal projects instead of hiding myself behind other people's projects, choreographers, film makers, directors or would-be singers – sinking ships, as Simon called them.
"Why not form your own ensemble and peform your work?" he asked me a couple of months ago.
We left it at that.
So Simon had been talking to Jochen Thärichen, the manager of the Berliner Symphoniker about an idea he had been nurturing for some time: to bring 
Passage 
to the concert hall and have it performed by an orchestra with me and my ensemble. No less!!! The many movements of 
Passage 
were written during the tragic events in Fukushima and the tsunami that devastated Japan. Maybe it was the zeitgeist, I was already working on it when I learned the news. I often create music with a premonition. My intuition compels me to do certain things and it's only much later that I understand why.
One of the movements from 
Passage
 was entitled 
Der Abschied 
(the farewell, in German). It featured an old Japanese man reciting the Japanese translation of the text that Gustav Mahler used for the last song of the 
Lied von der Erde 
cycle. I recorded him in 2007 when we were working on 
PLAY 2 PLAY 
with Jo Kanamori in Niigata. We tried to use the text in the music but didn't find any suitable moment for it – much to the old man's disappointment. I remembered it as I was composing 
Passage 
and it all suddenly made perfect sense: the Japanese man, the choice of the titles 
der Abschied / Passage
…
Simon's idea was to perform the piece, me and my ensemble with the orchestra and invite a famous stage or movie actor for the spoken part. He boldly contacted Japanese conductor Yasuo Shinozaki to tell him about the project. His aim is to premiere the project in Japan for a concert in memory of the event. Yasuo Shinozaki said he was interested. Herr Thärichen also seemed to be delighted by the idea but said that it would not happen before two years, for the orchestra and I had already collaborated this year.
This seems to be a very exciting project/ Simon has always loved the music and kept suggesting me to do something about it. I didn't judge the work worthy of more effort. And now I see how.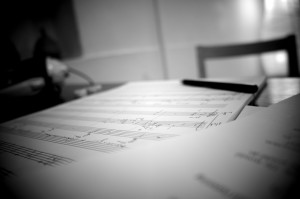 May 14th, 2013 | Back to the elements
I was standing barefoot on the hiking road, craning to catch a glimpse of the birds I could hear singing from the tall trees around me. It was decided that the shooting would take place on the Tai Po mountain. The project? A short promotional film that Johnny Li, a designer / interior designer decided make to introduce the spirit of his new company and new space, which will be launched by the end of the year. Josh , the director who was hired for the occasion went on location scouting and found this trail on the mountain. There was other alternatives but the Tai Po mountain obviously perfectly suited his vision. Johnny had Josh and I fly to Hong Kong especially for the project and was tight with time: we only had one day of shooting and the weather didn't seem willing to cooperate with us. The clouds were hovering low above us and it had started raining as soon as we stepped into the car! Josh, Norm (who joined the project to do the cinematography –  might as well use all the talents around) and the film crew were busy setting the camera. The weather had not been as Johnny had expected – well, read on the weather report: sunny. But somehow the shooting went well. I digged a hole, made a fire, walked on rocks, crossed a brook, watered a plant, went up and down a hill, all this barefoot.
I had felt the strong urge to connect with nature and Hong Kong wouldn't strike anyone as the ideal place. But that day of shooting gave me the perfect opportunity.
As the camera was being set for the last scene, I looked up and saw the branches high above me and the birds were giving the most extraordinary concert. I was happy.
May, 7th 2013 | The Captive Queen, c'est moi!

As Flaubert who said 'Madame Bovary, c'est moi!' I could also say 'The Captive Queen, c'est moi!' Although I realise it's dangerous to use the word queen outside of the semantic field of royalty…
I just completed the score intended for what was supposed to be my fourth collaboration with Jo Kanamori: The Captive Queen.
It took me a couple of weeks before I could go back to that piece, after Jo finally decided that it wasn't going to work out this time. Since I no longer had to follow Sibelius' musical structure so closely, I allowed myself to wander a little away from the narrative.
As I listened to it again, I realise how much the music was saying my current state of being. As Nicolas said when he heard it: "The music is very beautiful, very much aware, not at all lost. What I sense is this yearning for abandonment, to let go. Not of yourself, but what keeps your prisonner."
I have been dealing with that eversince I came back from Paris, more than a month ago.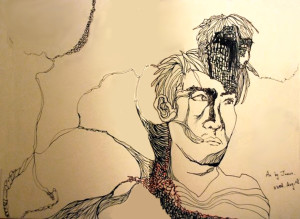 An by James Teng – Paris 2009
TO READ MORE